0
June 15, 2016 by readlisaread
I attended a ceremony yesterday. I felt quite privileged to be sitting where I was, amongst the people around me, celebrating the accomplishments of the people in front of me.  But, oddly, this entry is not about me.  This is another time in my life I feel I was called upon to bear witness– or, at least, that's why I was present.
The occasion was a convocation ceremony, and I was attending as associate faculty. I sat next to someone who had been a champion and role model for me when I was completing my own graduate degree, and I was there to celebrate one of the last group of learners I had taught during my brief time as faculty. The use of the word ceremony is apt– we were all gowned according to our degree, faculty and school, hooded or capped, black gown or red, and all the elements of academic heraldry. Then a bag-piper led us in through the theatre and up on stage, where we sat to take in the spectacle.
Several things touched me during the afternoon, including prayers, welcome and blessings from members of the Esquimalt Nation, and the conferring of an honorary doctorate of Laws on an elder and hereditary chief. I remember feeling humbled that the First Nations guests introduced themselves with first their Coast Salish name, and then their legal Anglicized name of Mary, or George, or Catharine… which they referred to as their "borrowed" names.  I thought that was possibly generous, the use of the term "borrowed" as opposed to "forced upon me".
Throughout the ceremony I reflected on what it meant, to me, to be a member of this learned community.  Petty irritations from earlier in the day fell away as I thought about what it truly means to educated, a point brought home when the Chancellor extolled the new grads to not settle for just being educated, they must use their education.
But it was in the closing remarks that I really thought about belonging. One of the deans of the university is transgender. I have only known him as a man, and had no idea he had been born female until I read an article about him, and his work in the field of needs assessment for the transgender community, gender identity and sexual orientation.  By simply being clear, by sharing his story, he is, by nature of his position in the University, a powerful role model. So perhaps if he had made the remarks that closed the afternoon, I might have been less surprised.  But it was the university president and vice-chancellor who took centre stage, congratulated the grads, underscored the message about continuing to learn and use their education…and then beseeched us all to effect change in a world where a gunman can walk into a building and take the lives of dozens of people, simply because they are associated with the gay community. He went on to share that he was especially affected, being a member of the LBGTQ2 community.  At that moment, something crystallized for me in my thinking. Despite being emotionally ill-prepared for his words on what was a day of joyous celebration, I suddenly saw something I had not before.  A collision of thoughts and feelings assaulted me in those few moments– I thought how important, heartfelt, and necessary his words were, I thought how brave he, too, was to openly share his truth, then I was angry that we STILL feel the need to "identify" (I don't go around saying "I am a member of the HWMCM community".  Have fun decoding that one, gentle reader). And then finally I thought "It's not that I don't care what his identity/orientation is, it's that I suddenly considered myself a member, too, of his community.  That may not make sense, and no, I am not "coming out" at the age of 50, but in the bigger, more important sense of I just don't see the division, I don't feel like there are separate concerns for "their" community versus "mine". I am quite confident I was as horrified and outraged by the Orlando massacre as anyone else.
I saw the President later in the faculty area and I thanked him for his words.  He said it was one of those moments that he wasn't sure if he had made the right choice, maybe he shouldn't have used that moment for that message, and again I thanked him, and said "No, you did right–those words needed to be spoken." And neither one of us felt the need to clarify which community we belonged to.
Footnote: Because I was at the ceremony, I missed attending an event in my hometown that I certainly would have, and which makes me proud to know it was organized, and proud that someone invited me, knowing that I would care. Pride. Go figure.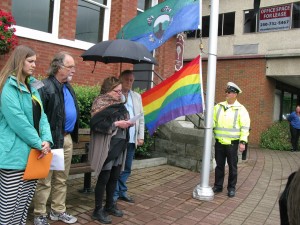 PPS: here is a little video of some of the highlights from the convocation ceremony: Click for more
Category Meanwhile, in other news | Tags:
---