0
April 12, 2017 by readlisaread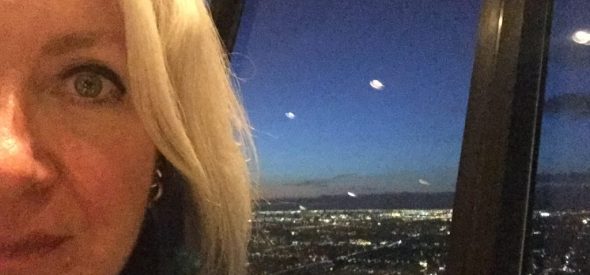 Apologies to The Hip…
One of the realities of living on an Island is the difficulty, at times, of getting off of the Island. My recent journey to Toronto was no exception– it was all planes, trains and automobiles. I was heading out to speak at an Educational Technology Conference, and as  is almost always the case, I learned as much or more than the knowledge I imparted.  In fact, for a technology conference, there was a much greater focus on the human condition than usual. And I, of course, found lessons even where perhaps none were intended.
After switching from the small jet to a bigger jet in Abbotsford, then switching to an identical jet in Winnipeg, I arrived in Hamilton to a spectacular lighting show, warm temps, and friendly car service fellow who drove me to Toronto.
Day 1:
I was grateful I wasn't presenting the first day, as it is always helpful to get acclimated to the surroundings and the potential audience.  As I listened to the key note and the opening sessions, a few themes started to emerge for me. One of my new compatriots (the College Professor) turned to me at one point, and quite exasperatedly said to me: "What is this "Deep Learning" everyone is talking about?  How do you know it's deep? Isn't it just learning!?". Several times over the course of my trip I had reason to think about this.
A quick walk around the block at the end of the first day showed me these sights:
Later my tribe headed to the Hotel Rex for some Jazz with a great little quartet.
Day 2:
So, here are where the lessons start to flow… The conference organizer had asked me if I would mind moving my session up, to a 2-hour earlier time slot.  I agreed, and thought nothing of it. Until I looked at the revised schedule and discovered that rather than being in a small session with some of the delegates, I was going to be presenting to the big room, to all of the delegates. After the first keynote. Who was from Harvard Business school. So, yeah, that happened.
But here's the thing… I was a little apprehensive at the thought, but I knew my message was important, and I hoped I could deliver it in such a way as it would be interesting and informative too.  It helped that Harvard had come with us to the Jazz Bar the night before, and so while I knew his address would be good, I also knew he was only human. Or, as a friend of mine said: "Harvard, Shmarvard". And soon enough, I was up on stage, doing what I do.
Deep learning happens when you are present and mindful.  It can also sneak up on you. Based on what I had heard the day before, and what I knew was coming after me, I was struck with the need to be much more diplomatic than I normally would be– especially around things like philosophy and standards. A shift, over years, but also over moments of wanting to "tell it like it is", but then realizing people don't necessarily hear best that way… instead, expressing my message from the stance of "This is important to me, and I think it should be to you too", hits on those empathetic notes, rather than the contrary ones.
And so the reality was that I found other speakers, even those with divergent opinions, appreciated my message, and found me later to express that.  The Harvard guy noticed that I had set up my iPad to record my talk, and kindly set it back up not once but twice when it toppled over. I viewed the experience as a gift, but the conference organizers thanked me for being flexible.
The day, and the conference, closed with some of us heading to the AGO (Art Gallery of Ontario) where I got to wander amongst an amazing art collection, reflecting on a rewarding and interesting day, and then on to dinner in an iconic Canadian landmark…or, if you like a hackneyed turn of phrase, I was feeling on top of the world, so decided to eat there too.
My last stop, the CN Tower.  I arrived just at sunset, and took the elevator up the top. Pictures tell the tale best:
And after a good night's sleep, I was off again, by taxi to Union Station, by train to Pearson Airport.
…and one more opportunity to experience gratitude for this experience… via social media, I knew that an old school friend was in the area, but though we were flying out the same day, our flights were 2 hours apart, and the airport is pretty massive. 10 minutes before I boarded, she appeared at my elbow, and the 30 years since we had seen each other last disappeared as if we had just had coffee last week. There is the deep learning, my friends.. it's relationship.  Each of these events are predicated, in some way, by the relationships I formed, some fleeting, some erstwhile, and some fledgling. Each as meaningful as the other, all of value, and all what fuels the flames of my passion for learning/by learning/of learning.
Thank you, whatever the nature of our relationship, thank you for contributing to my deep learning.
Category Meanwhile, in other news | Tags:
---