1
August 28, 2017 by readlisaread
I have two children.  They are mentioned here on occasion, and while I could find things to write about them and our life together on the daily, I don't disclose about them often, because as much as we share a number of traits, neither of them are the 95%-E-Extrovert I am. They appreciate their privacy, and as an aside, have negotiated growing up in the digital age with both grace and sensibility.  Short of being embarrassed by old email addresses and the occasional "Facebook Memory", by and large they have healthy digital footprints.
A trait we three do share, however, is our sense of humour.  More exactly, I take full credit and great joy in the fact that they have both inherited my sense of humour.  The sarcasm, absolutely, the whimsy, and especially the speed– one-liners, ready references and always straight to the punch line, get in/get out.  We don't tell long involved multi-character story jokes, nor enjoy long set-up pranks or any practical jokes, and we definitely don't do slap stick. But acerbic, pithy social commentary or ridiculous word play, we are your go-to team.
The other day I was reminded of these two gifts my children share with me– their humour, and their natural and effortless digital presence. I was chatting on Messenger with the GirlChild about her day– she having just started a semester abroad in Singapore. There are any number of small issues to deal with daily, and she started to tell me about a bothersome bug flying in the window of her dorm room.  I offer you the rest of the conversation as I experienced it (my chats are on the right.)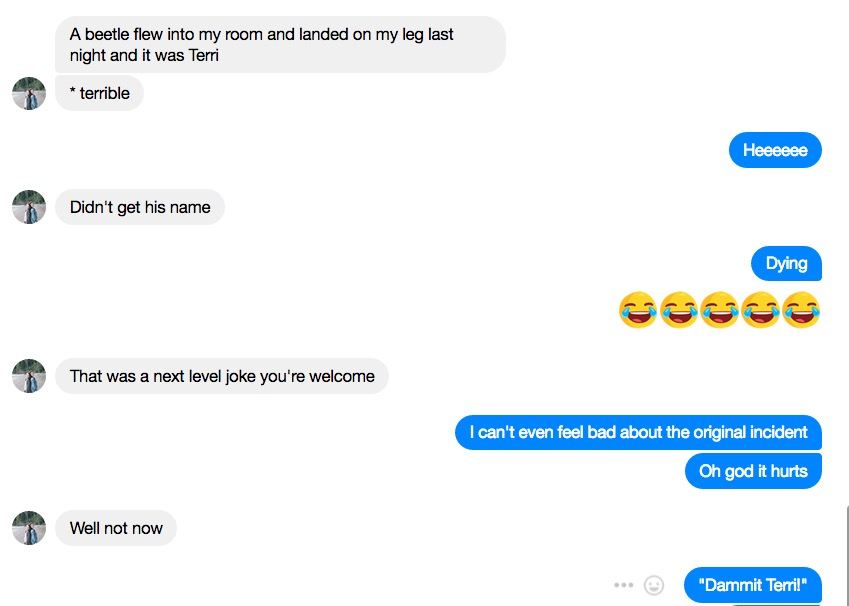 We've all experienced the pain of Autocorrect. If you could experience the playback of this chat in realtime, however, gentle reader, you would be swept up in the speed of the mistake, correction, and follow-up punchline.  I was still catching my breath when this was delivered: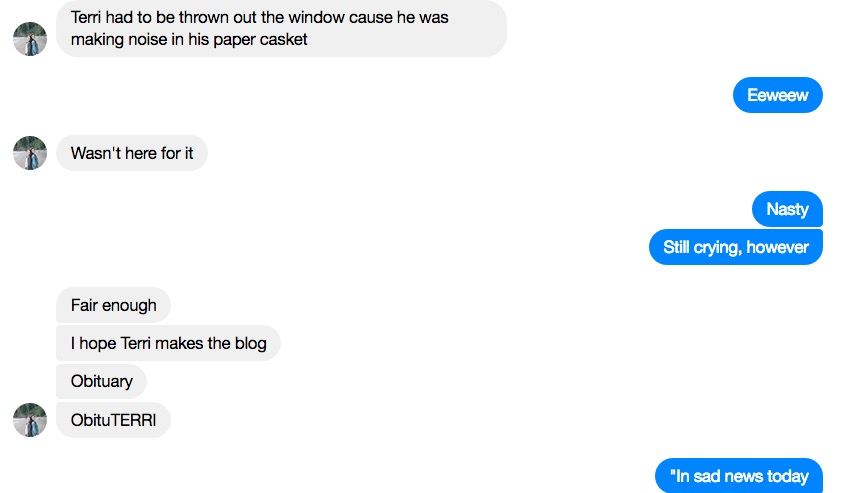 And so, Terri, the Erstwhile Beetle, has indeed made the blog.
Category Meanwhile, in other news | Tags:
---