0
June 28, 2018 by readlisaread
Obviously I struggled for a title for this one. I think part of the lack-of-words issue is the nature of the really-hard-to-describe experience of attending my first ISTE event, as well as my first trip to Chicago.
So let's start somewhere.  What is an ISTE when it's at home?
Here I am arriving in the Great Hall of the McCormack Centre, Chicago. The convention centre can host upwards of 20 000 people at any one time, and after my time there, I have a rough idea of what 20 000 humans looks like. ISTE is the International Standards of Technology Education, and yearly hosts a MASSIVE edtech conference, in a different US city (presumably ones that have massive conference centres).
So here is a multi-layered post about what I did, saw and conquered in the Windy City, which was quite without breezes while I was there, actually….but here we go.
The Drive in from the airport: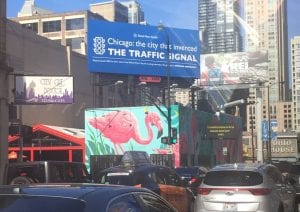 Through dense urban street scenes to quaint old school neighbourhoods, I was very quickly entranced by the city. Some more images:
About the only touristy event I had time for was the Architectural River Cruise.  An absolute Do Not Miss.  Here are some images of iconic buildings and the story the river tells of the history of Chicago.
Part 2 coming soon…..
Category Meanwhile, in other news | Tags:
---