0
March 13, 2017 by readlisaread
I've never been part of a gang of girls.  I don't go do girlie weekends in Vegas, or Outlet Mall shopping.  I don't play a team sport with a bunch of warrior-women, or sip Cosmos with my Sex in the City Sisters (I know, that reference is a little dated, but still good).
While I do have a few good female friends, I've just never been part of that culture, particularly. And so it was with a sense of glee mixed with curiosity that I headed off for what I consider the ultimate Girls gone Girlie Getaway– the Hen-Do Weekend. Bachelorette Time. Staggette City. Not only was I to spend a few days with a bunch of women, at the core of it, was the Bride-to-Be and her two sisters. If there is a Woman-Culture, a subset of Sister-Culture is equally powerful.
On the surface, there was nothing unusual in this event– a collection of women gathered, connected to the Girl-Guest-of-Honour in a variety of ways– the sisters and nieces, co-workers, old friends and new ones.  There was a treasure hunt, lunches and dinners, spa treatments, swimming, beach walking. Wine. Cocktails. Shots. So many shots. This is a second marriage, so the mean age was 45+.  While there was a certain amount of raucous behaviour, there was a cap of decorum. The Bride made it very clear there would be no male strippers, no alcohol-consumption that mirrors Spring Break lore, and no unnecessary shenanigans. The main idea was to bring women together to celebrate a life event.
It was fascinating to deeply immerse myself in this ancient (but new to me) culture of the Women-Away Weekend. Conversation ranged from career talk to feminism vs post-Neo-feminism, changing one's name, raising one's kids, rebuilding life after loss, walking away from relationships that don't nurture authentic self. As much as there were rules about strippers, there were no topics of conversation that were forbidden, off-side, or judged.
One of the deepest conversations I had the whole weekend, though, happened late on my last night, as I was enjoying a quiet nightcap. This event took place in a small town beachside resort, off-season, and so by Sunday night, last call came early, and customers (me) were out numbered 2-1 by staff having a post-work refreshment. And so it was that one of the deepest, most meaningful conversation I had this whole weekend of girl-talk was one I shared with 2 senior server/hostesses. They were both around my age- one slightly older, one slightly younger- and they were obviously close friends as well as work mates. They struck up a conversation with me, as they recognized me as a member of the erstwhile Hen Party.  The more we chatted, the deeper the conversation, until I had the epiphany that this was not just one of those idle conversations-with-strangers, there were life-lessons here, this was a moment with much deeper meaning than would have been apparent to an observer. It was as if I had opened myself and my energy to welcoming women to share their stories of what it means to be a woman.
As we left, when the metaphorical ugly lights came on, a normal sort of good-bye-nice-to-meet-you farewell didn't seem right, we had only just met, even though we had shared stories of loss, re-invention, betrayal, and death in the short time we had been together. Each of the other two women placed her hand on my arm as she passed, and as I covered her hand with mine, we wished each other safe journeys. I told them how much I appreciated them sharing their stories with me, that I didn't take that lightly, and the one thanked me for those words, and then added that she didn't know what it was about me, but the second she saw me, felt drawn to have that conversation with me.
I think I know what it was– as much as I like to tell my stories, I want to, and need to, hear the sister-stories of my tribe. There is still a lot of learning that awaits me….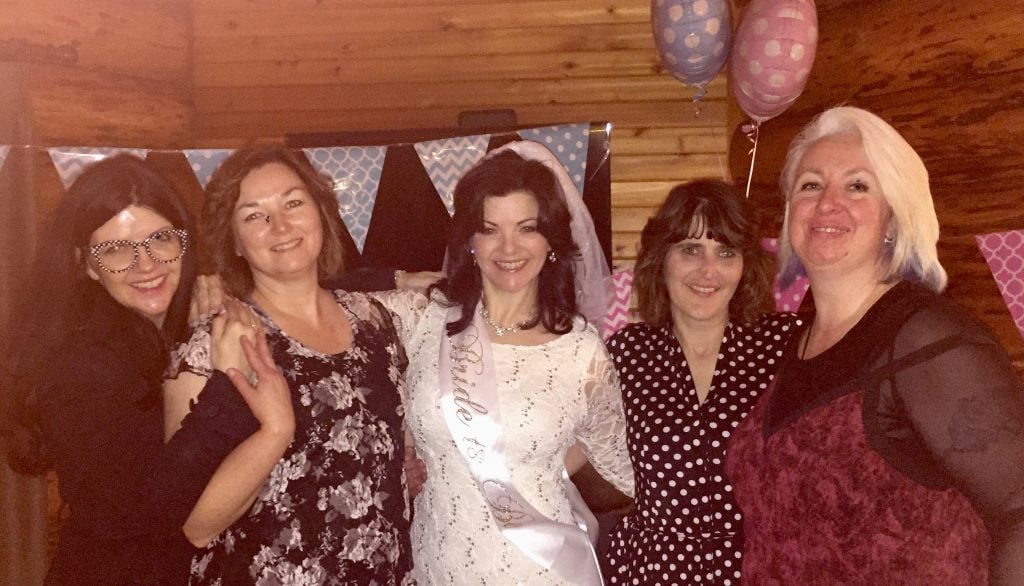 Category Meanwhile, in other news | Tags:
---